| | | |
| --- | --- | --- |
| May Day, 2004 | | |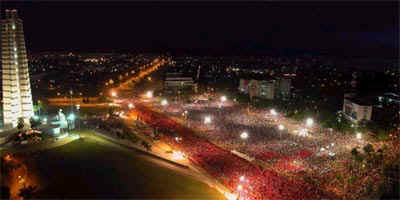 ...the "Day of the Worker." In North America, May Day seems to be associated more with the arrival of Spring than with the concept of solidarity. 

In Cuba, more than a million people - Cubans and visitors from abroad - packed into Revolution Plaza at the heart of Havana to express their solidarity with those who are also at the heart of society, economy and policy. Workers in Cuba are the ultimate power, a fact made plain in the early years of the "Special Period," when workers rejected their government's recommendations for dealing with the economic crisis and -through a series of national consultations- brought forth their own austerity plan. Who says Cuba isn't democratic?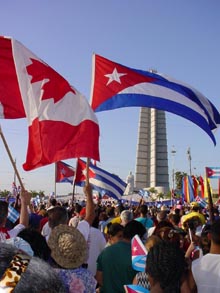 But May Day in 2004 is significant for other reasons. This was also the day on which U.S. President Bush's "Commission for a Free Cuba" was scheduled to table recommendations for forcing a change of government on the island. The desire for "regime change" is alive and well in the Bush Whitehouse, particularly in an election year (see 2004: Cuba Under Threat?). The months ahead will be tension-filled as Washington looks for another issue to keep the voters distracted. 

Coverage of world celebrations of May Day in most Canadian newspapers is often scant. The Sunday editions noted significant events of the day, including: "...Egyptians demanding better pay and shouting anti-US and Israel slogans were confronted by hundreds of peace in riot gear, who used clubs to break up the Cairo gathering," "Turkish riot police also detained around 150 people who tried to hold a May Day march in Istanbul," "hundreds of youths clashed with German police in Berlin," "In Switzerland there were clashes in Zurich between police and anti-capitalist demonstrators," "In Japan, around 42,000 people demonstrated," "In South Korea, around 20,000 workers."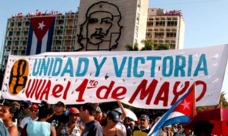 Coverage of May Day in Cuba by the North American media did not note the most remarkable aspect: in a country portrayed as a desperate place to live, where the people are supposedly repressed by a "dictatorial regime," there were no clashes of any kind between police and demonstrators. Cuban police did not turn water cannons, rubber bullets, or worse against the people. Cuba's May day celebrations were just that - celebrations. 

You can see it for yourself... plan your own trip to Cuba. It's one of the few ways to cut through a decades-old disinformation effort that has tarnished the Revolution's gains in worker's rights, social security, and human rights for all Cubans.

May Day Image Galleries: 1 | 2 | 3 | 4 | 5
Copyright © 2022 canadiannetworkoncuba.ca. All Rights Reserved.