| | | |
| --- | --- | --- |
| Thursday, July 22, 2004 | | |
The Plaza de la Revolución is filled with people tonight, but like millions of others, I am watching the grand concert that Silvio Rodriguez and Leo Brower organized on the TV. Fidel is there in a suit instead of his traditional verde olivo. A full orchestra is on the stage, a different backdrop to Silvio's Nueva Trova music....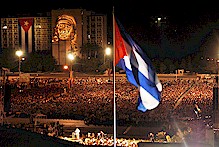 For the past two days all media and every public act have been filled with heartfelt messages of grief over the death of one of the world's greatest flamenco dancers,Antonio Gades. Radio, TV, newspapers have been filled with people's memories of him, anecdotes, tributes. One of the more frequently repeated one was a brief tv interview when Elián was still in the clutches of the Miami mafia in which Gades said if a commando were organized to rescue the child, to count him in.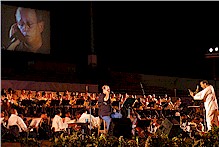 When Aleida Guevara March spoke at the book launching of Ocean Press' new Che en la Memoria (a book mostly of photos and letters, some previously unpublished) she asked for a tribute to this great man who rose from absolute poverty in Spain to become one of the world's finest and best known dancers (especially for his performance in Carmen) -- and an unabashed communist. But not a moment of silence, she quickly added -- he was a man too full of energy to remember with silence. Instead, she called for a moment of applause, and the applause in the open patio in the Habana Vieja site of the book launching was filled with prolonged applause. 

And tonight, when Silvio came onto the stage in the Plaza de la Revolución to great applause, he too asked to dedicate this concert to the memory of a great artist -- Antonio Gades (Obituary).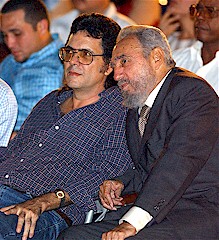 The people who run Washington could never in a million years understand a country and a government that spends as much time mourning a ballet and flamenco dancer -- and not even from Cuba -- as they spent hyping Ronald Reagan....It just doesn't fit with the image of Cuba they try to create and succeed in foisting on an unsuspecting and unquestioning public... 

P.S.: I forgot to mention that the tremendous open-air concert organized by singer-songwriter Silvio Rodriguez and classical guitarist and composer Leo Brouwer, wasn't a giant rock concert or even New Song movement folk singing -- it was the closing of the First National Gathering of Symphonic Orchestras. I had mentioned briefly that Silvio was backed not by the traditional Afro-Cuban band that often accompanies him but by a syphony orchestra (conducted by Brouwer), but I don't think I made it really clear that the hundreds of thousands who turned out in the plaza last night were joining the various symphony orchestras in honoring the 51st anniversary of the assault on the Moncada. One more indication of how far they have come in improving the level of mass culture in the country. We get those kinds of giant turnouts for rock concerts. But can you imagine that many people filling, not a small concert hall or the ampitheatre in Central Park, to hear orchestra music?
Copyright © 2023 canadiannetworkoncuba.ca. All Rights Reserved.