| | | |
| --- | --- | --- |
| Terry Fox Run 2003 | | |
Terry Fox Run - Cuba 2003
Sixth Annual Run coincides with stronger Canada-Cuba cooperation in sport.
One of the benefits of being a regular reader of Cuba's online newspaper, Granma Internacional, is the discovery of news that most other media outlets don't bother to cover.
This was the case with the Terry Fox Run - Cuba. Most Canadians of my generation remember Terry's cross-Canada run to raise awareness (and research funds) in the fight against Cancer, which he tragically lost before completing his journey. Until stumbling across Granma's coverage of the Terry Fox Run, however, I had no idea that other countries were honouring his memory with these events and supporting their national cancer research efforts.
Our awareness came a little late in the game to encourage, through our website, further Canadian participation in the Cuba event (many expatriate Canadians who work, study and vacation in Cuba take part in the annual run). In this site, you will find information on this and last year's Cuba runs, with links to both the official Terry Fox website and the Canadian Embassy in Cuba's page on the event.
2003 saw the sixth consecutive Terry Fox Run in Cuba, with over 100,000 participants joining in from all across the island. For the first time, the event went beyond its Havana base, with runs being organized in more than 150 Cuban municipalities. The credit for this expansion goes to INDER - Cuba's Ministry of Sport - which promoted the run through its branch offices.
Canadian sports secretary, Paul De Villiers, joined the Havana run this year during his official visit to sign agreements with INDER to augment cooperation between our two countries. He praised Cuba's achievements in pro-sport and toured a new anti-doping laboratory.
Granma Internacional's Coverage of the 2003 Terry Fox Run
Canada's Embassy in Cuba: Terry Fox Run
Terry Fox Run - Official website
---
PREVIOUS COVERAGE:
Terry Fox Run 2003 Cuba:
Sunday, February 2, 2003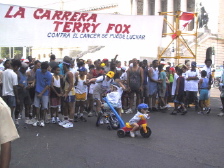 Every year, volunteers organize Terry Fox Runs in more than 50 countries worldwide, including Cuba, to raise funds which go towards the ongoing search for a cure for cancer. 

The Terry Fox Run in Cuba focuses as well on education on cancer and how to avoid it. Since 1998, the Run has been organized by the Cuban National Sports Institute, the Ministry of Health, the Canadian Embassy and the Cuban Foreign Ministry. For the first time in 2003, the Run will be held in virtually every municipality. 

The Terry Fox Run is not a race nor a competition. It is a family event in which everyone is encouraged to participate - by running, walking, rollerblading, cycling, or in wheelchairs - and to help raise awareness and funds. 

Last year, $21.5 million was raised worldwide for cancer research, raising the total since 1981 to $275 million. Some of the areas of research funded include genetics, immunology, and the molecular biology of cancer. As a result, survival rates for certain kinds of cancer have risen from 10% to 80% and treatments have become more effective and tolerable for patients. Here in Cuba, over $14,600 was raised last year and used to fund research at the National Oncology and Radio-biology Institute of Cuba to better understand specific causes of cervical and breast cancer.


Terry Fox

...was diagnosed with bone cancer in 1977, at the age of 18. His right leg was amputated six inches above the knee. While in hospital, Terry was so moved by the suffering of cancer patients that he decided to run across Canada to raise funds for cancer research. His journey was called the Marathon of Hope.

 

 

On April 12, 1980, Terry dipped his artificial foot into the Atlantic Ocean at St. John's, Newfoundland, and began his historic quest to run a marathon a day, every day, until he reached the Pacific Coast. Terry's fierce determination resulted in his running an average of 42 kms per day for 143 days.

 

 

On September 1, just outside of Thunder Bay, Ontario, he was forced to end his marathon after having run 5,373 kilometres, due to the spread of cancer to his lungs. Ten months later Terry died at the age of 22.

 

 

Terry's spirit and courage still echo in the legacy he continues to weave today in the millions of dollars raised annually, at home and abroad, for cancer research and in the example he set for all of us that dreams can come true.

 
To participate, register with the Canadian Embassy in Havana [email]
Travel Suggestions: Visit our Travel Page

Visit: Terry Fox Run Online
Copyright © 2022 canadiannetworkoncuba.ca. All Rights Reserved.